Doors CS 7 Graphing Calculator Shell

Table of Contents
Doors CS 7 is the seventh generation of a shell and GUI for TI-83, TI-83+, TI-84+, and TI-Nspire families of graphing calculators. Hand-coded in z80 assembly, it seamlessly extends the capabilities of the native TI operating system without removing any of its functionality. Among the key features:
Runs almost any programs available for these calculators, including those designed for MirageOS, Ion, Doors CS, as well as TI-OS BASIC programs, ASM programs, and files among many other formats.
Intuitive mouse cursor to move and click on onscreen items, plus extensive keyboard shortcuts for those who dislike a mouse interface.
Integrated GUI API and Associated Program system allows programs built for Doors CS to be smaller, faster, and better-looking than those for any other shell.
A nestable folder system for easy file organization that works seamlessly alongside the native OS.
CALCnet2, a built-in networking stack, lets you can connect two or more calculators together for chatting, multiplayer gaming, and more. You can even use "bridges" to access internet resources like the web, IRC, or FTP archives.
Doors CS 7 protects your programs and files against other programmers' mistakes with features including Intelligent Writeback and FolderRestore.
Customize everything from your mouse speed and cursor to your desktop background. You can also install small modules called SEs to further extend the features and capabilities of Doors CS.
More information can be found at the Doors CS 7 website.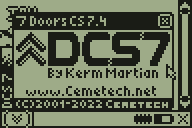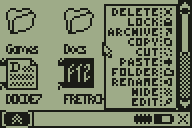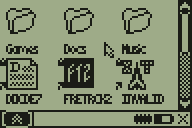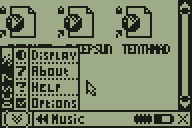 Version History
The full version history of Doors CS from September 2001 to the present can be found on the Doors CS 7 website.
Doors CS 7.4 (September 24, 2022): Full-featured shell with all libraries and tools.
Doors CS 7.2 (July 10, 2013): Adds CALCnet2 to the shell.
Doors CS 7.0 (August 24, 2010): First 7th generation release. Adds new BASIC and assembly libraries. Followed by minor versions fixing bugs and adding features.
Doors CS 6.0 (April 20, 2007): First 6th generation release, and first FLASH App version. Adds folders and the Associated Program feature. Followed by many minor versions fixing bugs and adding features as what became Doors CS 7.0 evolved.
Doors CS 5.0 (June 15, 2005): First major release with minimal set of shell features, including running finding and running any libless TI-BASIC or assembly program, as a non-App program for the TI-83, TI-83 Plus, and TI-84 Plus families. The minor versions up to Doors CS 6.0 made the TI-83 Plus/TI-84 Plus a FLASH App and added many new features.
Doors CS 4.0 (January 8, 2004): Hybrid TI-BASIC and assembly shell with rudimentary shell features.
Doors CS 0.1.0 (September 1, 2001) to Doors CS 3.0 (November 1, 2002): Simple TI-BASIC shell with experimental features.
Links, Press, and Information